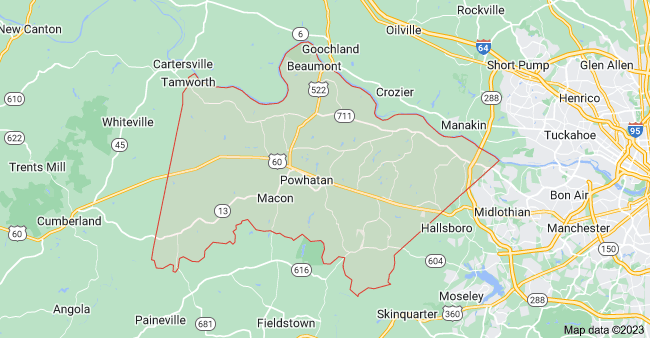 POWHATAN COUNTY'S #1 HOUSE CLEANING & MAID SERVICE
House Cleaning Service in Powhatan County, Virginia – Servicing Zip Codes: 23112 – 23113 – 23120 – 23139
Powhatan County, Virginia: A Region of Rich Heritage
Powhatan County, located in Virginia, offers a unique blend of historical richness and natural splendor. Known for its Native American heritage, it's named after Chief Powhatan, an important figure in early American history. The county's rural charm, dotted with farmlands and forests, makes it a peaceful escape from urban hustle. The beautiful Powhatan State Park, with its vast trails and riverfront, offers a haven for outdoor enthusiasts.
Points of Interest in Powhatan County
Powhatan County is more than a historical gem; it's a vibrant community offering a range of activities for residents and visitors alike. From the Powhatan Historic Courthouse to Fighting Creek Park, there's something for everyone. The county is famous for hosting the annual Powhatan County Fair and also houses local wineries, making it a delightful place for wine enthusiasts.
House Cleaning and Maid Service in Powhatan County
The Need for House Cleaning and Maid Services in Powhatan County
The pace of life in Powhatan County can be both fulfilling and demanding. Balancing work, family, and personal time becomes a challenge, and house cleaning often falls by the wayside. This is where HandiMaids comes in, offering top-notch house cleaning and maid services across the county.
The Benefits of Professional Cleaning
Time Saving: Hiring professional house cleaners frees up valuable time that can be spent with family or pursuing hobbies.
Deep Cleaning: Professional cleaning reaches places that are often neglected, ensuring a more sanitary living environment.
Consistent Quality: With HandiMaids, you get uniform cleaning every time, maintaining the pristine condition of your home.
Customized Services: HandiMaids offers a range of services tailored to your specific needs and preferences, making housekeeping stress-free.
Cities in Powhatan County Serviced by HandiMaids
HandiMaids provides house cleaning and maid services in the following cities and towns in Powhatan County:
Ballsville – Beaumont – Belona – Chestnut Oaks – Clayville – Dorset – Fine Creek Mills – Flat Rock – Genito – Goode Crossing – Hatchers – Hideaway Lake – Holly Hills – Huguenot – Huguenot Springs – Jefferson – Lilburn – Macon – Michaux – Moseley – Pilkinton – Plain View – Provost – Red Lane – Smiths Crossroads – Subletts – Tobaccoville – Trenholm – Worshams
Why Choose HandiMaids?
HandiMaids understands the local needs of Powhatan County residents. With a dedicated team of skilled professionals, HandiMaids guarantees quality, efficiency, and customer satisfaction.
Safety and Trust
HandiMaids ensures that their staff is thoroughly trained and vetted, establishing a trustful relationship with their clients.
Affordable and Flexible
Offering various plans and flexible schedules, HandiMaids provides services that fit every budget and lifestyle in Powhatan County.
Conclusion: Make Your Life Easier with HandiMaids
Living in Powhatan County offers a rich quality of life, but it also comes with responsibilities like housekeeping. Why not let HandiMaids take care of the cleaning? Embrace the convenience, professionalism, and quality that HandiMaids provides.
Call now for a quote or request a quote online. Experience the freedom and joy of a clean home without lifting a finger. Let HandiMaids be your partner in maintaining the beauty and comfort of your Powhatan County area home!