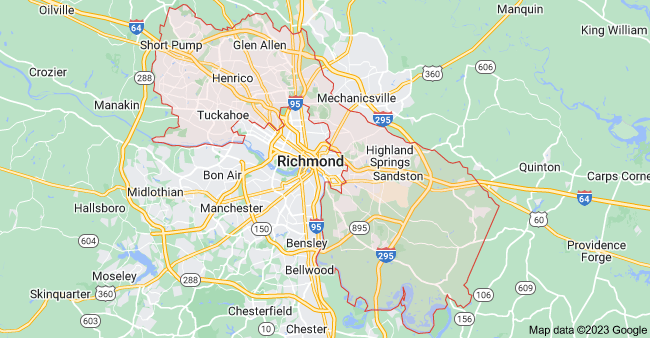 HENRICO COUNTY'S #1 HOUSE CLEANING & MAID SERVICE
House Cleaning Service in Henrico County, Virginia – Servicing Zip Codes: 23173 – 23226 – 23294 – 23227 – 23228 – 23230 – 23233 – 23238 – 23229 – 23294 – 23238
Henrico County, Virginia, stands as a testament to a harmonious blend of rich history and modern living. Its diverse neighborhoods, bustling shopping districts, and beautiful parks make it a sought-after destination for families and professionals alike.
Why Henrico County Homes Deserve the Best in House Cleaning and Maid Services
Life in Henrico County is an exciting mix of work, leisure, and family time. However, in the midst of our daily hustle and bustle, it's easy to neglect our homes. This is where the excellence of HandiMaids comes into play, offering premier house cleaning and maid services tailored for the discerning residents of Henrico County.
Advantages of Opting for Professional Cleaning in the Area
Save Precious Time: By entrusting your home cleaning to professionals, you can allocate more time for activities you love, be it exploring Henrico's parks or enjoying a family meal.
Thorough Clean-Up: Experts know the nooks and crannies often overlooked during regular cleaning. With HandiMaids, every corner of your home gets the attention it deserves.
Consistent Excellence: HandiMaids promises the same high standards of cleaning each time, ensuring your Henrico County home remains in impeccable condition.
Tailored to Your Needs: From deep cleaning to regular upkeep, HandiMaids offers customizable services to fit your unique requirements.
Henrico County Areas Serviced by HandiMaids
HandiMaids proudly extends its house cleaning and maid services to various areas in Henrico County, ensuring that homes across the county radiate cleanliness and charm.
Choosing HandiMaids: The Henrico County Advantage
HandiMaids isn't just about cleaning; it's about understanding the essence of Henrico County living. Their dedicated team, with its local insights, ensures that your home gets the best care.
Trust and Safety First
Every HandiMaids professional undergoes rigorous training and background checks, ensuring that you open your home to a service you can trust.
Value for Money
With competitive pricing and flexible packages, HandiMaids offers house cleaning solutions that cater to varied budgets and needs in Henrico County.
Elevate Your Henrico County Living with HandiMaids
Being a resident of Henrico County means cherishing a life of comfort, culture, and community. Ensure your home reflects the same standards. Choose HandiMaids serving Henrico for a spotless living environment.
Don't wait. Dial in for a personalized quote or simply request one online. Let HandiMaids redefine cleanliness for your Henrico County home, allowing you to relish every moment of your splendid life here.