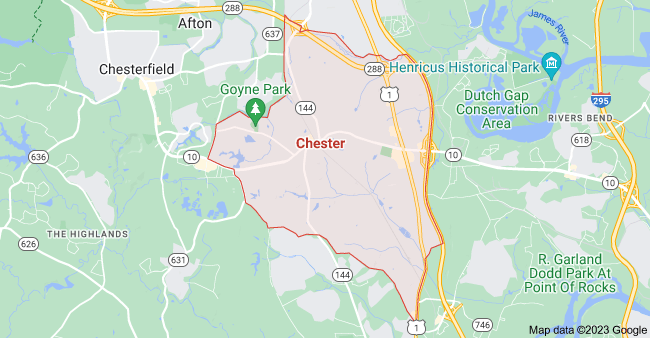 House Cleaning Service in Chester, Virginia – Servicing Zip Codes: 23237, 23831 and 23834 
HOUSE CLEANING & MAID SERVICE IN BON AIR, VIRGINIA
Discover the Charm of Chester, Virginia
Rich in history and drenched in Southern charm, Chester, Virginia, beckons with a unique blend of rural tranquility and suburban convenience. Located just south of Richmond, Chester's origins date back to the 17th century, making it a treasure trove of American heritage. The area beautifully displays its historical roots, from the 19th-century architectural marvels of Henricus Historical Park to the iconic Chester Village Green, a modern embodiment of old-world charm.
The community's engaging lifestyle extends to its impressive assortment of parks, like the R. Garland Dodd Park at Point of Rocks, offering miles of scenic trails and panoramic river views. A host of shopping and dining options adorn Chester, while its acclaimed school system and public services make it a preferred choice for families.
Chester's Lifestyle and the Need for Home Cleaning Services
While Chester's laid-back lifestyle and verdant landscapes provide a welcome respite from urban hustle and bustle, residents often find themselves balancing their professional obligations, community engagement, and family time. It leaves them with little room for the routine, albeit vital, task of home cleaning. This is where HandiMaids, a leading cleaning company based in Richmond, comes into play, providing top-tier Chester house cleaning services to the Chester community.
Maintaining a clean home goes beyond aesthetic appeal; it speaks to health, comfort, and overall quality of life. But the demands of regular cleaning can be time-consuming and physically strenuous. HandiMaids is here to lighten that load. Our team of dedicated Chester cleaning service professionals appreciates the essence of a clean, sanitary home and consistently delivers that standard, taking on tasks ranging from routine tidying to deep cleaning.
Caring for Chester's Homes with HandiMaids
HandiMaids recognizes the unique architectural features and interior elements prevalent in Chester homes and takes a tailored approach to ensure their preservation. Our cleaning experts are trained to treat various materials and surfaces, safeguarding your beloved antiques and detailed home fixtures while creating a clean, healthy environment. In keeping with Chester's love for nature, HandiMaids uses eco-friendly cleaning products that are safe for your family, pets, and the environment.
Enlisting HandiMaids' professional cleaning service is more than a cleanliness investment – it's a lifestyle upgrade. It allows you to reclaim precious time for recreational pursuits in R. Garland Dodd Park, socializing in Chester Village, or simply relaxing with loved ones. It's the joy of returning to a clean, welcoming home after a busy day.
Invest in a Cleaner Home and a More Leisurely Lifestyle with HandiMaids
In a community as vibrant as Chester, don't let house cleaning chores distract from the pleasures it has to offer. Let HandiMaids offer you a clean, healthy living space, leaving you with more freedom to enjoy life in Chester. Whether it's a one-off deep clean or a regular cleaning arrangement, HandiMaids provides a customized solution that fits your needs.
Embrace a cleaner home and a more leisurely lifestyle. Call HandiMaids today for a quote and take a stride towards regaining your valuable time in the wonderful community of Chester. Remember, a call to HandiMaids isn't just about booking a cleaning service—it's your gateway to a more relaxed lifestyle and a beautifully maintained home in Chester.