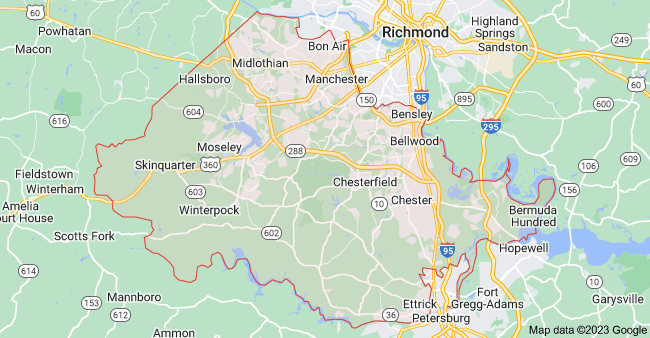 CHESTERFIELD COUNTY'S #1 HOUSE CLEANING & MAID SERVICE
House Cleaning Service in Chesterfield County, Virginia – Servicing Zip Codes: 23832 – 23112 – 23113 – 23114 – 23120 – 23234 – 23235 – 23236 – 23237
Discover the Charm of Chesterfield County
Chesterfield County, Virginia, boasts a unique blend of scenic beauty and urban sophistication. From the serene trails of Pocahontas State Park to the historic grounds of Magnolia Grange, Chesterfield County offers an experience rich in culture, nature, and history. Its communities are vibrant, bustling with activities and attractions that cater to both residents and visitors alike.
Elevate Your Chesterfield County Living with Premium House Cleaning Services
Nestled amidst such beauty and vibrancy, homes in Chesterfield County deserve nothing but the best. As daily life gets busier, maintaining the pristine condition of your home can be a challenge. Enter HandiMaids – your ultimate partner for top-tier house cleaning in Chesterfield County.
Benefits of HandiMaids House Cleaning in Chesterfield County
Reclaim Your Time: Chesterfield County has so much to offer. By leaving the cleaning to the experts, you can explore more of what makes this county special, from its historical sites to its recreational areas.
Deep and Detailed Cleaning: The HandiMaids team knows what the area's homes require. With keen attention to detail, they ensure every part of your home shines.
Scheduled to Suit You: Whether it's a one-off deep clean or regular upkeep, HandiMaids tailors their services to fit your calendar and requirements.
Safe, Trusted, and Reliable: Every HandiMaids cleaning professional is thoroughly vetted and trained, ensuring you welcome only the best into your Chesterfield County home.
Areas HandiMaids Proudly Serves in Chesterfield County
HandiMaids takes pride in servicing homes across the county, ensuring that every residence they touch resonates with cleanliness and comfort. We service the following cities and the surrounding areas: 
Bon Air – Brandermill – Chester – Enon – Ettrick – Matoaca – Meadowbrook – Midlothian – Mosley – Woodlake
Why HandiMaids is the Top Choice for House Cleaning in Chesterfield County
HandiMaids doesn't just clean; they enhance your Chesterfield County living experience. Their team, deeply rooted in the county's ethos, understands what local homes need.
Consistency in Excellence
With HandiMaids, you're assured of the same high-quality service every time. Their commitment to excellence is unmatched in house cleaning Chesterfield County services.
Transparent Pricing
No hidden charges, no surprises. HandiMaids offers transparent pricing, ensuring residents of the area get premium services at honest rates.
Make the Most of Chesterfield County Living with HandiMaids
Living in the area means embracing its rich heritage, scenic views, and modern amenities. Let your home be a reflection of this exquisite blend. Opt for HandiMaids – the leading name in house cleaning Chesterfield County services.
Step into a cleaner, fresher home every day. Get in touch with HandiMaids for a personalized quote or request one online. Experience the difference of a meticulously cleaned home in the heart of Chesterfield County.